Create a culture of engagement and accountability by helping leaders manage Setups, Checklists, Breaks & Training
Get smooth-running shifts with a proven playbook. Supercharge your leadership teams with Gameplan, Break and Training management solutions. Our focus is exclusively on Chick-fil-A

®

, though we are not contracted by Chick-fil-A

®

.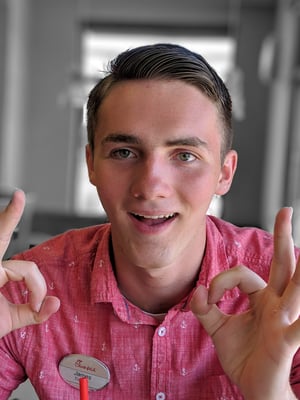 Built from the inside by James Finlinson, a former teenage Chick-fil-A® Team Member working at the Ammon, ID store.
James is a great success story for the Chick-fil-A® franchise. He is a product of their leadership training while employed for one of the best service-oriented organizations in the world. James took it to heart when taught that he should give "second-mile service" in everything you do in life. Noticing that he could create technical solutions to help Operators run more efficient teams he developed OneClick and signed up his employer as his first customer.
After proving that the concept was sound, James recruited seasoned executive leaders with vast experience in working with Fortune 500 companies to scale software solutions.
Leader benefits:
Operators
Trainers
Shift Leaders
Team Members
Key features:
Clearer communication
Drag & drop layouts
Built-in training
Product options:
Team/Shift Management
Training Management
Advanced Breaks Tracking
OneClick is the #1 all-in-one Shift, Breaks & Training Management solution that enables Operators to more effectively organize, communicate and modernize their Team Member management needs.
Support
Where existing customers can get help with IT questions or request training.
CONTACT SUPPORT
Sales
Request a free consultation so that we can customize the product to fit your needs.
CONTACT SALES