User Not Able To Log In?
OneClickApp synchronizes with Hot Schedules for the user list and when a user is not included in any shifts in Hot Schedules, OneClickApp will move them to "Archived" status and they will not be able to login to OneClickApp. To restore access, add them to a shift and wait for the next sync cycle (1 to 15 minutes) and the user will be reactivated. Another option is to add "Longterm Employee" permissions to their record to keep them in the system even when they aren't scheduled in Hot Schedules. Contact OneClick support to if the Longterm Employee option isn't available under their user profile page.
If you know that your email address is in HotSchedules and are still having problems logging in, click on the "Trouble Signing In?" link.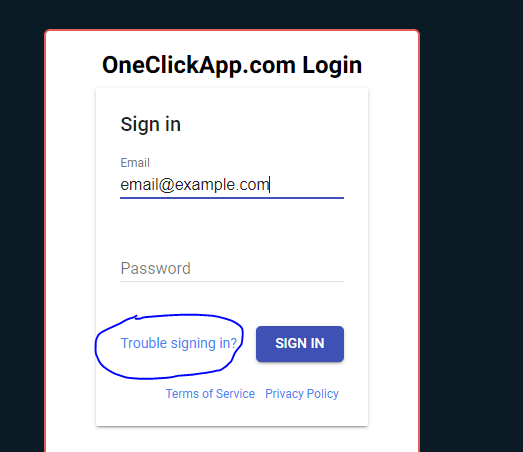 How Are Secondary Responsibilities Assigned To Team Members?
Team members can be assigned to multiple positions if needed. Lists or special assignments can be communicated through the Notes section at the top of the screen. These notes remain visible to all shifts through the day.

How Are "Rotating Buddies" Tracked?
Rotating Buddies can be used to pair up team members to swap positions as needed throughout their shift to manage extreme conditions. Request a Rotating Buddies section in the Layout, then assign team members to both their primary position and the Rotating buddies set.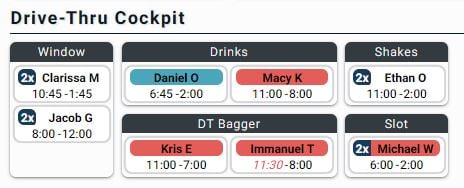 Drag & Drop Doesn't Seem To Be Working On An iPad?
Confirm that the user logged into the iPad has permissions of Team Leader or higher. A common practice is to stay logged into the iPad with a service account and allow managers to temporarily elevate their permissions to make adjustments using the Cowboy Hat icon

and the PIN associated with their user account.

They can logout manually

or the system will log out automatically inactivity (configurable timeout).
How To Add A User?
Users are added only through HotSchedules and login to OneClickApp using the email address connected to their HotSchedules profile. Once a user is scheduled in HotSchedules, the user can access https://login.OneClickApp.com and use either a Google login or create a password to login with email. User accounts are automatically archived when they have no scheduled shifts and their access is restored when they have a shift. Select the "Longterm Employee" permission to keep users active even when they don't have scheduled shifts.
Can I Add A New Employee To A Shift Today Who Was Not On The Schedule Before?
Yes. Add the employee to the schedule in HotSchedules and the change will sync to OneClickApp within 15 minutes.
What Is Needed For HotSchedules Integration?
OneClickApp uses HotSchedules login credentials to create a read-only connection for syncing information for team members and shifts to display in OneClickApp.
Does OneClickApp Replace HotSchedules?
No. OneClickApp requires HotSchedules. HotSchedules is still used to create schedules for the Team Members. OneClickApp downloads the information about who will be working on the shift and combines that with information on the training and skill set of each team member making it easy to make position assignments and change them on the fly during the shift.
Does OneClickApp Work With Multiple Locations?
Yes. Create a HotSchedules credential for each location that is to be synchronized with OneClickApp. It will not work with a login that requires the user to select which location to access. It works great as long as the login takes the user directly into one HotSchedules location.
Does Each Employee Have Their Own Login To The Software?
Yes. Every employee can log into the software using the email address connected to their HotSchedules account. If their email is linked to a google account, the Team Member can choose to "Sign In with Gmail" and use their google credentials to access the system. If they don't want to use their google credentials, or don't have a google account, they can choose to "Sign In with Email" and create their own password for the system.
What Privileges Are Assigned To Each Role In The Software?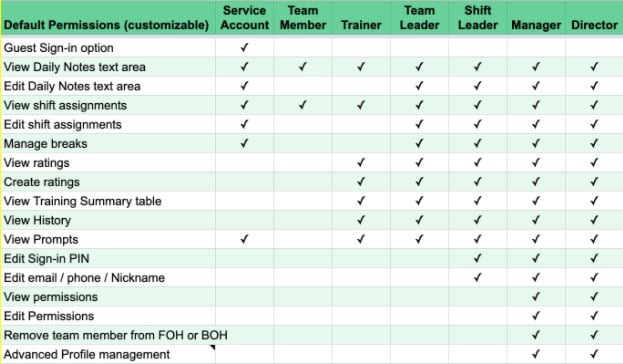 If further information is required, please contact us.
Which Account Should We Use To Display The OneClickApp In The Store?
Best practice is to use the service account to display OneClickApp in the store. This will allow anyone to modify position assignments and manage breaks. If any leader needs elevated permissions, they can use the Guest Sign-in option (Cowboy hat icon in menu) with a PIN that is set on their Team Member record to use the display terminal with their account temporarily. They then have the option to sign out (exit icon that replaced Cowboy hat), or it will automatically sign them out after a few minutes of inactivity and revert back to the Service Account.
Does OneClickApp Track Training Progress Of The Team Members?
Yes. OneClickApp has a training module that allows the trainers to rate each employee with a standard rubric on multiple criteria such as "speed", "accuracy", "2nd mile service", and "productivity". Some stores set standards using the training module with guidelines that as soon as Team Members receive a certain rating from a trainer at their current position, they can be eligible to advance to the next position for training.