Advanced Break Management Capabilities Ensure Labor Law Compliance And Reduce Break Policy Abuse
Advanced Break Management. Save thousands in fines, fees and confusion by using this one feature.
---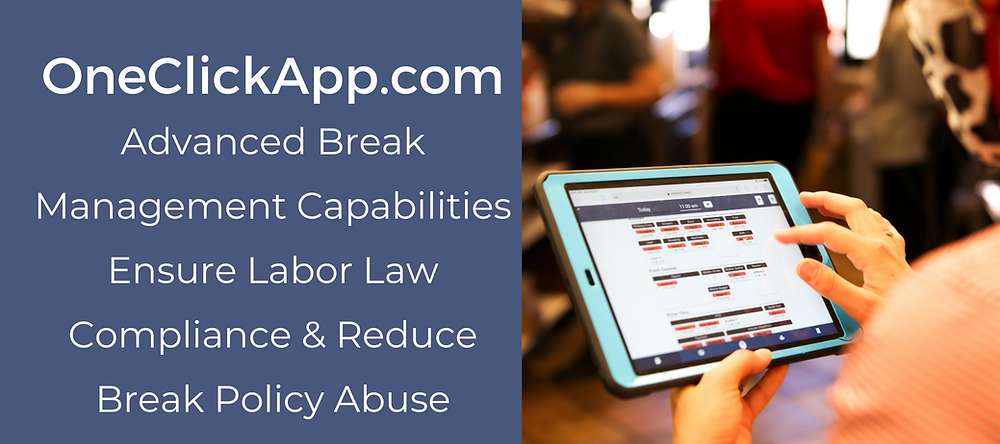 SUMMARY
OneClickApp offers advanced break management, tracking and reporting capabilities including:
Track multiple rest period and meal breaks according to local labor laws

Pending Break Timer helps team members get on break timely

Countdown Break Timer helps team members return to work timely

Selecting between break options if applicable

Report showing breaks taken available for audit if needed

Report highlighting missed breaks save time preparing payroll if applicable
DETAILS
Consider the risk of fines or lost productivity if a young shift leader mismanages breaks that might result in significant fines for non-compliance with labor laws, or productivity is lost in transition when team members stop working while ordering food and waiting for a break to start. The OneClickApp records 5 key pieces of information for each break: team member name, date, time started, break length and elapsed time from when the team member was authorized for a break until they actually went on break. With this knowledge at their fingertips, leaders have the power to manage their team by setting clear expectations to improve productivity while ensuring policies and laws are followed.
The cost of non-compliance can be high if fines for violations come into play or even higher if lawyers get involved. It is shockingly difficult to avoid finding labor law attorneys eager to educate and litigate about labor law violations when performing simple internet searches about break policies for various states. OneClickApp offers a system that intelligently calculates and tracks the breaks so that even the least experienced leaders can avoid making mistakes that can result in high costs to CFA operators.
Track multiple breaks according to local labor laws or policies
OneClickApp now tracks multiple breaks according to store policy or local law requirements. Break eligibility is automatically calculated by the software based on criteria including length of time worked, age of employee and/or if shift spans a certain time of day.
Consider a scenario where Callen is working from 2:00pm to 7:30pm for a total of 5 hours and 30 minutes. For shifts between 5:01 and 6:00 hours the store policy offers a 10 minute rest period and a 30 minute meal break for adults and a 15 minute rest period and 30 minute meal break for team members under 18 years old. OneClickApp does the calculation and when the policy offers multiple breaks, they can be selected individually.

Pending Break Timer helps team members timely get on break
Callen was authorized to go on a 10 minute break 4 minutes ago.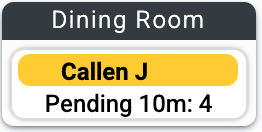 Countdown Break Timer shows when breaks are finished
Callen has been on his 10 minute break for 12 minutes, -2 indicates 2 minutes beyond time.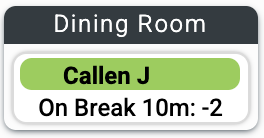 After Callen completes his 10 minute break, the blue background on his card indicates that 10 of his break minutes have been used (25%) and 30 minutes are left as shown in red (75%).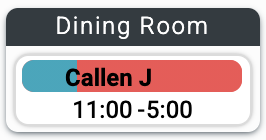 Allow selecting between break options
Kent has a choice of either 2 - 20 minute breaks or 3 - 15 minute breaks. When he chooses the 15 minute break option, the 20 breaks are no longer available.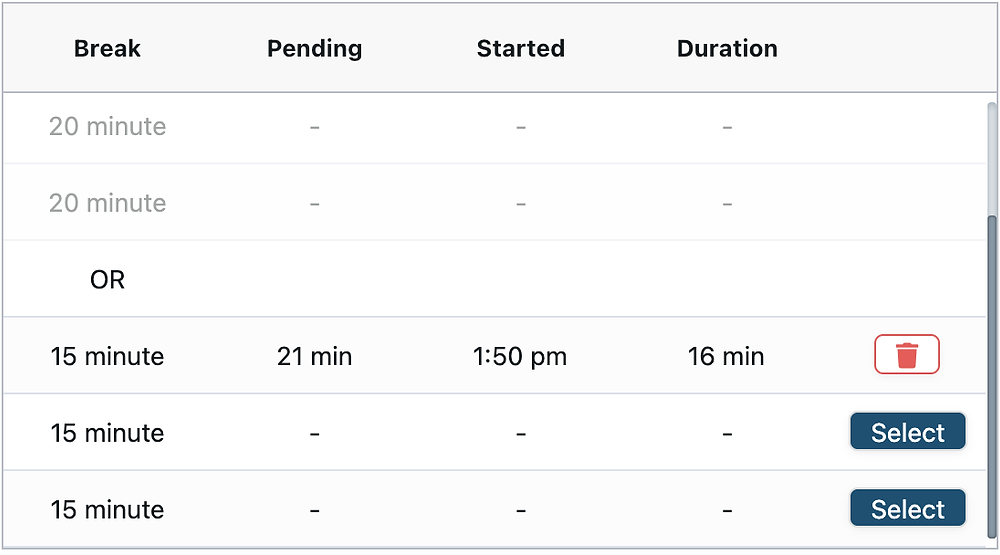 Report showing breaks taken available for audit if needed
If a labor inspector ever asks for verification that breaks are being taken as required, simply show the break report in OneClickApp which will list all breaks taken by all team members over a selectable time period.
Report missed breaks save time preparing payroll if applicable
Some stores add extra time on payroll to compensate team members for missed breaks or leaders review missed breaks to know where to focus training efforts to ensure labor law compliance. Tracking breaks and sorting through the records to identify missed breaks can be tedious and time consuming. OneClickApp's missed breaks report lists the missed breaks by team member making it fast and simple to avoid legal issues.
FAQs
I'm an existing customer. Does this feature cost extra?
Advanced Break Management is an additional module that is priced separately. Contact your OneClickApp Account Manager to request a pricing quote.
I'm an existing customer. How do I submit my requirements for our break rules to be programmed into the app?
Please go here to complete this form: oneclickapp.com/support-ticket
How do I create a report that shows the history of all breaks?
Our expected launch date for being able to generate reports for breaks is September 15, 2021
When I get audited for labor compliance, what steps do I follow?
After September 15, 2021 simply run a report by date, export or print.
The labor laws in my state are very complex. Are you sure your system can handle such complicated logic?
Are waffle fries tastier dipped in a vanilla ice cream cone? Are chicken sandwiches better with pickles in them? Are the Chick-fil-A® grilled nuggets the best we've ever had? The answer to all these questions, and your initial one is...Yes! OneClickApp can do it all.
What is the shortcut URL for this page to easily share with my team?
I'm not a customer, but want to try your software. Do you have a free trial period?
Absolutely! Complete this form to get two weeks for free.