OneClickApp Now Serves Over 2,100 Chick-fil-A® Employees Responsible For $100 Million In Sales
If you haven't heard the story about how OneClickApp was started by a teenager while working at a Chick-fil-A®, this is a must read!
---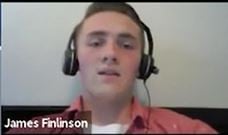 If you haven't heard the story about how OneClickApp was started by a teenager while working at a Chick-fil-A®, this is a must read!
James Finlinson has a passion for people and technology. He loved his job at Chick-fil-A® because it fit his personality. He got to work with great people and also got to serve friendly people on a daily basis. He fits the mold perfectly. He is never without a smile or a laugh. He loves life and everything about it.
While working at the Ammon, Idaho store #02789 he noticed that his Director and Shift Leaders were using a combination of Excel and pen & paper to manage employees, trainings and the efficiency of each new hire. The thought to himself "there's got to be a better way."
Hacking his way through the code he started building the OneClickApp system one feature at a time. He spent many nights and weekends working on the code, making changes according to his store's needs and testing it. He even made a special trip with his dad and visited the corporate headquarters for Chick-fil-A® in Atlanta, GA, where he met with several very kind developers and executives that gave him encouragement to continue.
His software matured along with the growth of the store that experienced a surge in sales that grew from $4 Million to over $9 Million a year. OneClickApp proved especially useful when the COVID-19 Pandemic hit. His software was the perfect solution to help manage the growth in drive through employee line up logistics.
Once James felt the software was ready for prime time he launched a live webinar, where he demonstrated the software for the first time to anyone outside of his current store. The webinar was attended by over 50 Directors and Managers.
Today, just a few months after the official launch, OneClickApp:
Has grown from one to five team members and developers.

As of January 1, 2021 - Now helps to manage over 2,100 CFA employees who are responsible for generating $100 Million in sales for Chick-fil-A®.
The goal for OneClickApp is to continue to stay focused on developing software for Chick-fil-A® franchise owners. That is our passion and our focus. That is also what makes our software so good.
If you are a CFA Leader, Manager, Director or an Owner/Operator...and you haven't tried OneClickApp...it's time to. With a no-obligation free 2-week trial that does not require a credit card to get started, this risk-free offer is difficult to pass up.
Watch the original pre-recorded live webinar that demonstrates the software, presented by James.
To request your free two-week trial go here.
Updated Demo Video: August 20, 2021